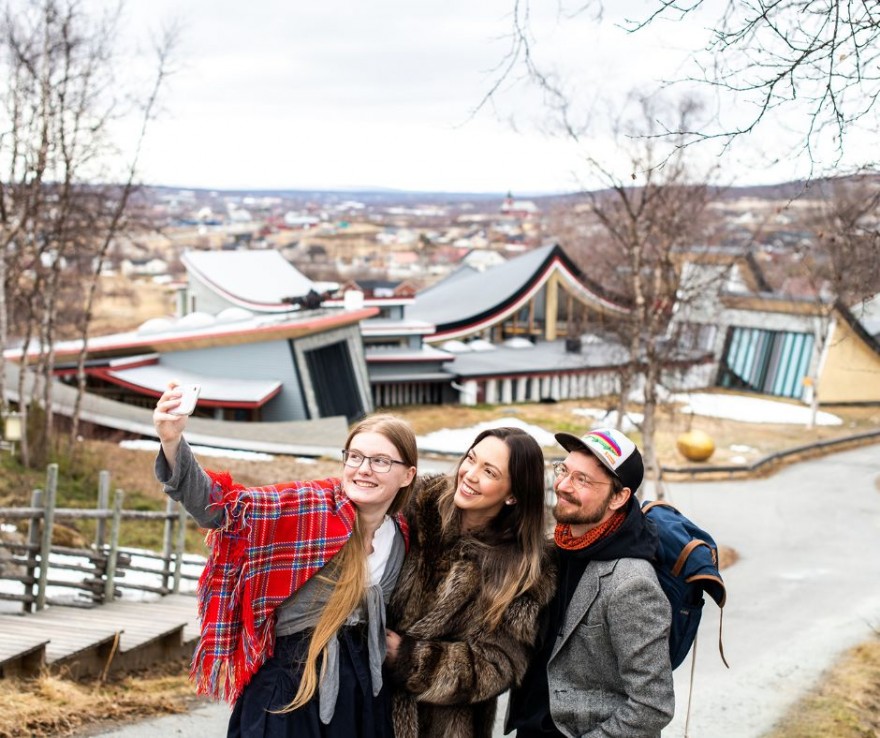 July 01. beaivi 2022
6 good reasons to study at Sami University of applied sciences
Are you going to start studying this fall? Then there are 6 good reasons why you should choose Sami University of applied sciences.
Sami University of applied sciences has a strong Sami learning environment
Samisk høgskole har et sterkt samisk læringsmiljø. Hvis du flytter til Kautokeino, så oppdager du fort at Kautokeino har et levende samisk miljø. Samisk høres daglig, både på høgskolen i bygda. 
A Sami environment where the Sami language and Sami traditions are at the center   Sámi allaskuvlla vuolggasadji lea Sápmi - kultuvra, servodateallin, máŋggabealálašvuohta, árbevierut ja giella. Sámi allaskuvllas leat oahpaheaddjit geat máhttet giela, ipmirdit sámi servvodagaid dárbbuid ja kultuvrraid. 
A close learning environment and contact with both teachers and fellow students
Sámi allaskuvllas lea ealli sámi biras gos beasat oahpásmuvvat eará sámi ja maiddái eará máilmmi guovllu olbmuiguin. Allaskuvllas lea unnit studeantavuođđu go stuorát universitehtain ja allaskuvllain. Dáppe mis lea buorre ja fátmmasteaddji oahppibiras, gos leat buorit vejolašvuođat oahpásnuvvat eará studeanttaiguin.
Online training and gatherings
Dihtet go ahte eanas oahput Sámi allaskuvllas lágiduvvojit neahttaoahpahussan ja deaivvademiid bokte Diehtosiiddas Guovdageainnus? Neahttaoahpahus ja deaivvadeamit addet studentii vejolašvuođa čađahit oahpu ja maiddái orrut vaikko. Studeanta dattege ferte searvat fysalaččat go deaivvadeamit leat geatnegahtton.
Good exchange opportunities
Háliidivččet go váldit oahpu Sámis, muhto niegat maiddái studeret olgoriikkas? Dus lea vejolašvuohta ollašuhttit goappaš sávaldagaid. Sámi allaskuvlla studeanttain leat buorit vejolašvuođat váldit oanehisáiggi dahje guhkitáigge lonohallama olgoriikkas. Lonohallamis sáhtát viiddidit iežat fierpmádaga, oahpásmuvvat ođđa riikkaide, kultuvrraide ja gielaide. 
Good job opportunities
Studeanttat geat čađahit oahpuid Sámi allaskuvllas leat bivnnuhis bargoohccit. Jus ovdamearkka dihte čađahat sámi vuođđoskuvlaoahpaheaddjeoahpu dahje sámi mánáidgárdeoahpaheaddjeoahpu de leat dus sihkkaris bargovejolašvuođat. Olles sámis lea stuora dárbu sámi oahpaheddjiide geat máhttet giela, dovdet sámi kultuvrra, árvvuid ja servodateallima.

Sápmi dárbbaša maiddái fágačehpiid fágasurggiin nugo boazoealáhusas, duojis, sámegielas ja sámi girjjálašvuođas, servodatfágas ja journalistihkas. Jus válljet oahpu Sámi allaskuvllas, de leat don mielde gokčame sámi servvodaga dárbbuid ja seammás hukseme sámi servvodaga iežat gelbbolašvuođai. 


If you have not applied for studies this autumn, you can still apply for available studies through local admission. See which studies you can apply for. 

From July 20 dii. 09:00 you can apply for our program subjects that are available through Coordinated Admissions. 
Choose Sami University of applied sciences!